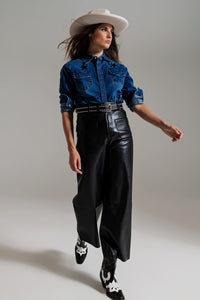 Q2
Fitted Denim Shirt With Black Graphic Details With Strass
Make a bold urban statement with our Fitted Denim Shirt adorned with striking black graphic details and shimmering strass embellishments. This slim-fit denim shirt features an eye-catching star print and text in shiny black, creating a unique and stylish look. The buttons are designed for easy closure with a satisfying click.
With a polo collar and long sleeves, this shirt is perfect for adding a touch of edge to your urban style. Crafted from stretch denim, it offers both comfort and flexibility. The graphic print on the chest adds a trendy and artistic flair.
Made from a blend of quality materials, including 75% Cotton, 23% Polyester, and 2% Elastane, this shirt combines durability with style.
Please note that this shirt runs small, so consider sizing up for the perfect fit. The model is wearing size S, with measurements of 33-24-35 and a height of 5'8''. The S-M-L-XL sizing corresponds to US sizes 2, 4, 6, and 8, respectively. Embrace the bodycon fit and artistic appeal of this denim shirt to make a striking fashion statement.
By emerging brand Q2, of Spain
Delivery via USPS: FREE, arrives in 2-3 weeks, or select DHL Express for $12 and receive in 4-5 business days.
Q2 Sizing: 
XS-S-M-L-XL sizes equate to US sizes of 2, 4, 6, 8, and 10 respectively.
About Q2
Shopping for clothes? Q2 Clothing is an emerging brand from Spain, who is dedicated to offering cutting-edge fashion and high quality. Our collection is so extensive that you could consider it a ladies fashion shop in its own right, albeit among the finest of ladies online fashion boutiques. Q2 stays on top of emerging trends, and provides tasteful designs at approachable prices. We call our collection our Q2 store. That's because the entire line is of such great quality that we carry it in its entirety.  Click here to view Q2's policies. Go here to view our Q2 size guide. Please note: Q2 sizes are European and run small by US standards. Sizes XS-S-M-L-XL convert to US sizes of 2, 4, 6, 8, and 10 respectively.