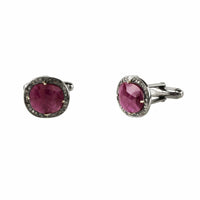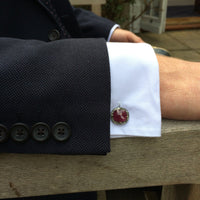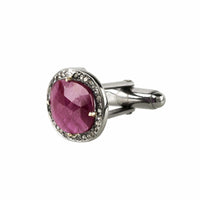 Latelita London
Ruby Cufflink Oxidised Silver Champagne Diamonds | LATELITA
Design:
Featuring an organic slice of ruby and handset with rose-cut champagne diamonds, these cufflinks add a touch of luxury to any tailored ensemble.
These swivel-bar cufflinks strike the perfect balance between traditional refinement and contemporary elegance.
Materials:
925 sterling silver, oxidised.
0.45 carat, round, rose-cut diamonds
7.5 carats of ruby
Style Notes:
The epitome of understated refinement, pair with crisp white shirts to complete a classic formal aesthetic.
Black tie and formal occasions Wedding jewellery Office attire Luxury tailoring
Dimensions:
Length: 1.5cm, Width: 1.4cm
Packaging:
These impeccably-worked accessories come supplied in their own presentation box, making them an ideal gift.
Care Instructions:
To maintain your jewellery, wipe gently with a damp cloth that is soft and clean. Do not soak in water. Avoid contact with soaps, detergents, perfume or hair spray.
About Latelita London
Latelita is a British atelier jeweler who blends the contemporary British and traditional Eastern aesthetics. Founded in 2012, Latelita London works with semi-precious natural stones in exceptional colors, which are handcrafted into iconic pieces. So many pieces in our Latelita collection make a fashion statement and start conversations!