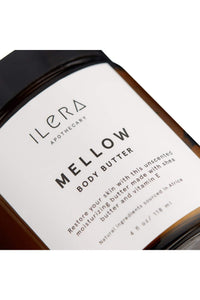 Ilera Apothecary
Ilera Apothecary Mellow Moisturizing Body Butter
Delivering a luxurious experience that moisturizes the skin, our Mellow Body Butter is 100% organic, providing your skin with the rich nutrients to make it smooth and soft for a glowing experience. 
Inspired by an African village, Mellow is unscented with a powerful blend of Jojoba Oil, Coconut Oil, and Vitamin E paired with Shea Butter hydrates and moisturizes even the driest skin, leaving you silky smooth all day. 
Thicker than a lotion, this body butter goes a long way. It is powerful enough to use on eczema and psoriasis and gentle enough to use on babies. 
Multi-functional in use, the ILERA Apothecary Body Butter can be used: - on the skin after a shower, as a relief for sunburn, on callused feet, on the hair, lips, dry hands, and cuticles.
Mellow:
Natural, Unscented
USE
Massage into skin until completely absorbed
Apply to clean skin as needed
Best when used on damp skin after shower or bath
For maximum results, use with any 

of the moisturizing ILERA 

Apothecary body washes
INGREDIENTS 
MELLOW: Organic Butyrospermum Parkii (Shea Butter) Fruit, Organic Theobroma Cacao (Cocoa) Seed Butter, Organic Simmondsia Chinensis (Jojoba) Oil, Organic Cocos Nucifera (Coconut Oil), Tocopherol (Vitamin E) Oil.
GOOD TO KNOW
Some ingredients sourced on the African continent
Shea Butter nourishes and hydrates skin
Vitamin E oil reduces the appearance of wrinkles 
Suitable for all skin types 
100% natural
 * Due to high summer heat, your body butter may arrive melted. Upon receipt of your package, we recommend placing your product in the refrigerator BEFORE opening the jars.
About Ilera Apothecary
Metro-Detroit-based Ilera Apothecary produces vegan and organic skincare for the entire family. ILERA Apothecary is a premium skincare line that uses sustainably-sourced African ingredients and digital technology to create a highly personalized skin-health experience. All ingredients used serve a beneficial purpose to your skin. Our ILERA Apothecary line will help you to feel confident knowing because you can rest assured that you are using the best ingredients for your skin. Click here to view ILERA Apothecary's policies.