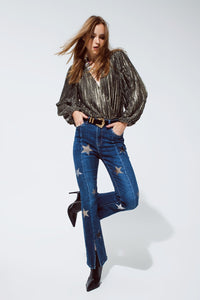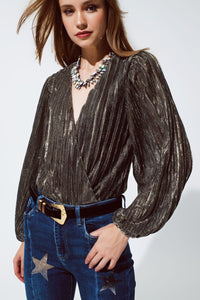 Q2
Shiny Glitter Body With Deep V Neck In Gold
Introducing our Shiny Glitter Body with Deep V Neck in Gold, a dazzling and elegant piece that's perfect for making a statement at parties and special occasions, particularly during the festive holiday season. This gold glitter body is designed to add a touch of glamour and style to your wardrobe, and here's why it's a must-have:
This striking body features a low V-neck neckline, creating a bold and eye-catching look. It's the perfect choice for parties, celebrations, and occasions like Christmas, where you want to shine and stand out.
With long sleeves, this body not only adds a touch of sophistication but also ensures you stay warm and comfortable during your festive gatherings. The bodycon fit enhances your silhouette and gives you a sleek and elegant appearance.
Made from high-quality lurex fabric, this piece is designed to sparkle and shine, making you the center of attention at any event. Crafted from 100% polyester, it combines style and comfort seamlessly.
Our model showcases this glitter body in size S, highlighting its appeal with measurements of 31-23-35 and a height of 5'10'. For your convenience, the S-M-L sizing corresponds to US sizes 4, 6, and 8, ensuring you can easily find the perfect fit. This body offers a bodycon fit, making it comfortable and stylish for various body types.
Our Shiny Glitter Body with Deep V Neck in Gold is more than just clothing; it's a fashion statement that effortlessly combines glamour and comfort. Whether you're attending a holiday party, celebrating a special occasion, or just want to add a touch of glitz to your outfit, this body is your ideal choice. Don't miss the opportunity to own this stunning and versatile piece that offers both sparkle and elegance for memorable events.
By emerging brand Q2, of Spain
Delivery via USPS: FREE, arrives in 2-3 weeks, or select DHL Express for $12 and receive in 4-5 business days.
Q2 Sizing: 
XS-S-M-L-XL sizes equate to US sizes of 2, 4, 6, 8, and 10 respectively.
About Q2
Shopping for clothes? Q2 Clothing is an emerging brand from Spain, who is dedicated to offering cutting-edge fashion and high quality. Our collection is so extensive that you could consider it a ladies fashion shop in its own right, albeit among the finest of ladies online fashion boutiques. Q2 stays on top of emerging trends, and provides tasteful designs at approachable prices. We call our collection our Q2 store. That's because the entire line is of such great quality that we carry it in its entirety.  Click here to view Q2's policies. Go here to view our Q2 size guide. Please note: Q2 sizes are European and run small by US standards. Sizes XS-S-M-L-XL convert to US sizes of 2, 4, 6, 8, and 10 respectively.