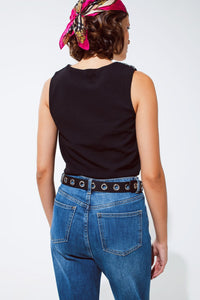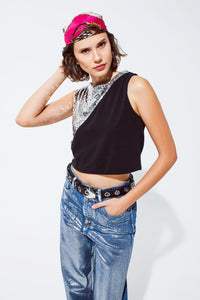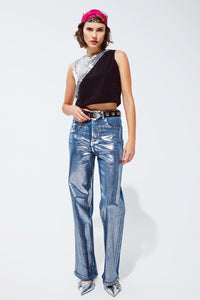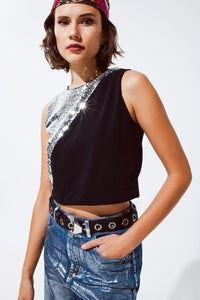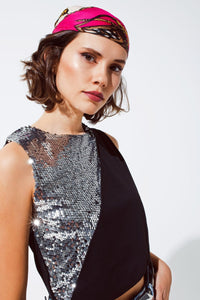 Q2
Sleevless Croptop With Diagonal Silver Sequin Detail In Black
Introducing our stunning Sleeveless Crop Top with Diagonal Silver Sequin Detail in Black, a unique and eye-catching addition to your wardrobe, perfect for elevating your style during special occasions, holidays, or parties.
This crop top is a showstopper with its half-black and half-silver sequin design, ensuring you stand out and make a statement wherever you go. It's a versatile piece that pairs effortlessly with jeans or skirts, making it suitable for various outfits and events.
The cropped length adds a chic touch to your look, while the color-block print creates a one-of-a-kind and attention-grabbing design. With a crew neckline and a sleeveless style, this top exudes elegance and sophistication, making it a perfect choice for party outfits.
Crafted from a blend of 95% polyester and 5% elastane, this crop top seamlessly combines style and comfort. Our model, showcasing this top in size S, highlights its appeal with measurements of 32-23-35 and a height of 5'.
For your convenience, the S-M-L sizing corresponds to US sizes 4, 6, and 8, ensuring you can easily find the perfect fit. This crop top offers a regular fit, making it comfortable and stylish for individuals of various body types.
Our Sleeveless Crop Top with Diagonal Silver Sequin Detail is more than just clothing; it's a fashion statement that seamlessly combines glamour and comfort. Whether you're preparing for a holiday gathering or getting ready for a night out, this top is the perfect choice. Don't miss the opportunity to own this stunning and versatile piece that adds sparkle and style to your collection, offering both elegance and ease for special occasions.
By emerging brand Q2, of Spain
Delivery via USPS: FREE, arrives in 2-3 weeks, or select DHL Express for $12 and receive in 4-5 business days.
Q2 Sizing: 
XS-S-M-L-XL sizes equate to US sizes of 2, 4, 6, 8, and 10 respectively.
About Q2
Shopping for clothes? Q2 Clothing is an emerging brand from Spain, who is dedicated to offering cutting-edge fashion and high quality. Our collection is so extensive that you could consider it a ladies fashion shop in its own right, albeit among the finest of ladies online fashion boutiques. Q2 stays on top of emerging trends, and provides tasteful designs at approachable prices. We call our collection our Q2 store. That's because the entire line is of such great quality that we carry it in its entirety.  Click here to view Q2's policies. Go here to view our Q2 size guide. Please note: Q2 sizes are European and run small by US standards. Sizes XS-S-M-L-XL convert to US sizes of 2, 4, 6, 8, and 10 respectively.